The nail brace acts to elevate the nail plate and unload the pressure on the underlying skin along the sides of the nail. This allows the underlying skin to regain its strength and accept the pressure of the nail once more. It also elevates the nail on the toe and in some cases it can totally reduce the involution or inward curving of the toenail.Depending on the history and condition of the nail, Nail Bracing can be a very effective conservative treatment option, instead of Nail surgery. Products to suit almost every patient's needs!
FEET RELIEF SHELLHARBOUR is now offering Podofix + COMBIped treatments with affordable payment plans. Initial appointment/nail assessment and explained treatment plan = $60
Then treatment plan over 6 months = $280 including all products and treatments. Normal recommendation is a year to fully gain new realignment/renewed corrected curvature of nail. Individual needs are assessed regularly every 4-5 weeks.
Please contact me on info@feetreliefshellharbour.com or phone 0406077649 - 42978543 (answer phone) to book initial consultation.
www.feetreliefshellharbour.com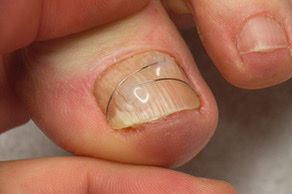 | | | | |
| --- | --- | --- | --- |
| | podofix | Podo-Stripe | COMBIped |
| Adhesive brace | yes | yes | yes-pad |
| Wire brace | no | no | yes |
| Treatment of curled nails | + | + | +++ |
| Treatment of ingrown nails | ++ | + | ++ |
| Where only one side of the nail is accessible | + | +++ | +++ |
| Where neither side of the nail is accessible | +++ | +++ | no |
| Extremely thin nails | +++ | +++ | ++ |
| Very narrow nails | +++ | - | ++ |
| In case of hypergranulation | +++ | +++ | ++ |
| Force & effectiveness | +/++ | + | +/++ |
| Seminar required | no | no | no |